Developing Today's Leaders
"The highest calling of leadership is to live a life where your daily actions align to your core purpose and values."
—Tony Gambill
Thought Leadership
Tony Gambill's articles in Forbes cover a wide range of topics related Self Leadership and Leading Others.
These valuable insights provide practical advice for leaders looking to improve their skills and lead their teams more effectively.
Getting it Right When it Matters Most
Discover how to Get It Right in your Moments That Matter-when the situation is complex and relational-and the stakes are high. In an ever-changing environment when typical habits, behaviors, and thinking aren't enough,
Getting It Right When It Matters Most introduces research backed insight and a simple model for your most important situations. Apply self-awareness, learning agility, and emotional intelligence through the Self, Outlook, Action, and Reflection (SOAR) cycle.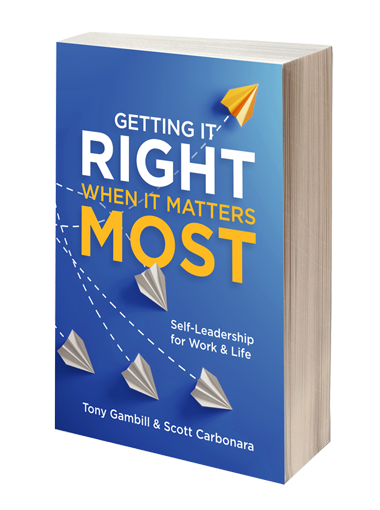 Let's Work Together and Map out
Your Future Success
Let's Work Together and Map out Your Future Success